Shen Yun Reviews: Wall Street Journal: Starring China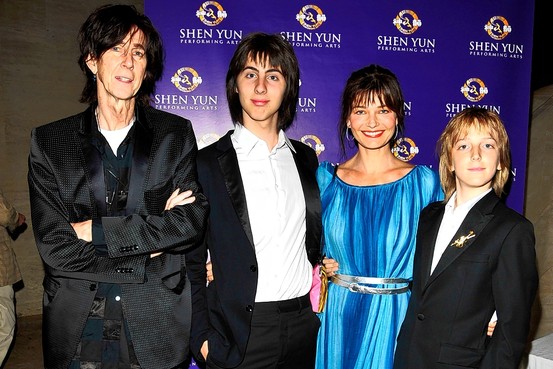 Ric Ocasek, Jonathan Ocasek, Paulina Porizkova and Oliver Ocasek. (WSJ Patrick McMullan)
At the David H. Koch Theater Thursday, Shen Yun, a New York company of Chinese dancers and musicians, presented a "greatest hits" show from their years of international performance. With titles like "Drummers of the Tang Court" and "The Monkey King Outwits Pigsy," each piece corresponded to specific ethnic cultures and folktales within the vast Chinese spectrum.
"It's 5,000 years of Chinese history in two hours of performance," said Carrie Hung from Chinese Arts Revival, the presenting organization. (The evening was arranged by the Peggy Siegal Company, which emblemizing the split between highs and lows permeating our culture, also screened the comedy "Horrible Bosses" at the same time downtown.)
Salman Rushdie, Paulina Porizkova and Candace Bushnell were among those who attended the Shen Yun opening. Ms. Bushnell's husband, the dancer Charles Askegard, expressed appreciation for the performers' technique: "I cannot tumble," he said. "I'm 6'4."
In a nod to the East-West nature of the event, guests could choose between hamburgers and mozzarella sticks or Asian-fusion treats like black sesame mochi and sushi. The only shots being done were of tea.
"It's going to relax you, lift you up, and help you with digestion," said the tea bartender, Dayin Chen.
There were varying degrees of connection to China. Janelle Howard, a client liaison for Alpha Capital, hadn't ever been ("Does Chinatown count?" she asked) and was particularly dazzled by the show's elaborate costumes. "All the colors! It's like a chakra-balancing experience. I'm going to tell my yoga teacher I don't need her anymore."
The architect and interior designer Peter Marino goes to China four times a year for projects. More than 50% of his work is there, he said. Dressed in his signature biker garb, he admitted that when he put himself together for the evening, "I wasn't thinking about China. I've had these clothes on for four days."
-- Lizzie Simon
June 29, 2011