Magic 7: Shen Yun Packs Lincoln Center
NEW YORK SHOWS DRAW CELEBRITIES, EVEN CHINESE OFFICIALS
Shen Yun Performing Arts wrapped up its seventh show at Lincoln Center's David H. Koch Theater Sunday night in front of yet another full house. Not originally scheduled, the final performance was added last-minute due to demand for tickets.
The April performances marked Shen Yun's fourth series of Lincoln Center shows, and Touring Company's second appearance there this season. Celebrities at David H. Koch Theater included David H. Koch himself, actress Meg Ryan, opera singer Jessye Norman, and Russian Countess Nicholas Bobrinskoy.
For many New Yorkers, it was their first time watching Shen Yun, and their first glimpse of authentic traditional Chinese culture. And yet, many found classical Chinese dance immediately accessible.
Here is what some of them had to say: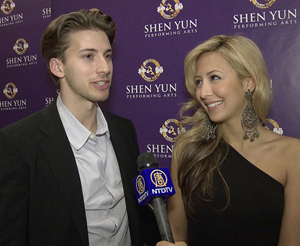 Classically trained singer Natascha Bessez and
her companion Hunter Johansson,
brother of actress Scarlett Johansson.
Soprano Geng Haolan's singing was "amazing, really heart-felt, and came from a really special place," said Hunter Johansson, brother of actress Scarlett Johansson, who was there with singer Natascha Bessez.

Shen Yun's East-West orchestra stood out for Ms. Bessesz. "It's something that as a New Yorker you don't get to experience everyday," she said.
New York State Assemblyman Eric Stevenson drew profound revelations from the performance. "It is a call for people to now… make a decision between good and evil. The moment has come."
Retired CNN broadcaster Mark Davey said he had a "soul-touching experience." As a child, he often felt "a kinship, a fondness for the people" of China he could not explain. "Now when I watch this production, I understand why."
Bill Roloff, CFO of an electric company, said the spirit of Shen Yun is completely different from shows he had watched in China. He particularly enjoyed "The Choice," which depicts practitioners of Falun Gong standing up for their faith by holding a banner. "This program brought back a lot of memories," he said. "I saw the exact thing happen on Tiananmen Square during my visit there."
The show attracted not only New Yorkers, but also many international fans, including ones who flew in especially from China.
Among them was a Chinese trade official. Mr. Guo says he was in New York in February when a friend told him about Shen Yun. At the time, he had to return to China, but waited eagerly for two months to fly back to the Big Apple especially to watch the show for the first time.
"This is the best show I've seen my whole life and I'll remember it the rest of my life," said Mr. Guo, holding back tears. "It's the sincerity that touches the deepest level of my heart and connects with me."
"I see today how mainstream Western society cherishes and values traditional Chinese culture," the official said in an interview. "I see today the audience was inspired, and I also see the hope of China."
April 25, 2012