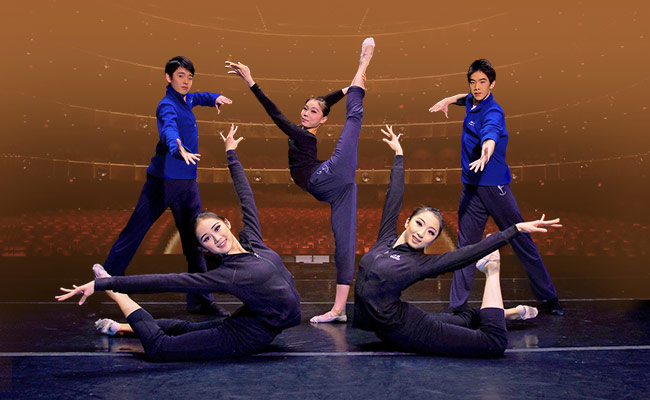 Happy Thanksgiving to All Our Friends!
At Shen Yun headquarters, everyone from dancers to musicians, designers, and technical staff will be together this Turkey Day— sharing drumsticks and remembering to be grateful for all that we have and all that we do together.
Guess what your favorite Shen Yun artists are thankful for this holiday season?
Principal Dancer Angelia Wang:
I'm very thankful for my family, especially my grandparents, and all the support they've given me throughout the years. I'm also thankful to our audience members. Because of you guys, I feel really comfortable going on stage every time and presenting China's rich heritage.
Principal Dancer Melody Qin:
I'm thankful that we live in a receptive society, that we have the freedom of religion and other rights denied to so many around the world. I'm also thankful for the audience members who really understand the show on a deeper level and leave feeling inspired by our message.
Principal Dance Xinghao Che:
I'm thankful for the wonderful people in our costumes department. Far from the spotlight, they work so hard to create everything from the breathtaking costumes to the detailed shoes and headpieces. They are so patient with us whenever we come in for alterations and selflessly turn in months and months of hard work. Without you, there is no show!
Principal Dancer Jaling Chen:
I'm grateful for our wonderful teachers who coached us in dance, life, and so much more. They've really guided us through every step of the way. And of course, I'm grateful to my parents for their continuous encouragement.
Principal Dancer Ben Chen:
Between the most hectic dress rehearsals of the year, now is actually a good time to stop and ask myself: "What am I really thankful for?" Well, I'm grateful for having been part of Shen Yun the last seven years. I am grateful to the gods of dance who bestow us with the magical power to connect with the hearts of strangers without saying a word. And I'm grateful for that final moment on stage, which we have spent so long preparing for.
Principal Dancer Mark Kao:
Thanks for the special chance that I have been given.
Conductor Milen Nachev:
Some artists are born. Some artists are made. Some artists have the privilege to affect people with their art in a way that can change their lives. I'm grateful to be part of something that allows me to have this privilege.
Soprano Haolan Geng:
I'm thankful for the audience members who have supported Shen Yun for 10 years! And for the new audience friends we will make during this upcoming 2016 tour. I wish everyone gets to be happily reunited with their families this Thanksgiving, and that we can all be grateful for each and every happy day to come.
Trumpeter Eric Robins:
I'm thankful for learning how to become grateful. I'm grateful for the opportunities to grow, for my family and for the friends around me and what they give me every day.
MC Kelly Wen:
I am thankful for all those people behind the scenes—the production crews, dance teachers, local promoters—who work their hardest to make our show possible. You are the unnamed heroes of Shen Yun! And even more, I'm thankful to you, our audiences around the world, who move us by being moved with us by the performance.
* * *
We wish all of you—our extended Shen Yun family—a safe and happy Thanksgiving. Meanwhile, we've started counting down to Shen Yun 2016. We'll be seeing some of you in less than a month!