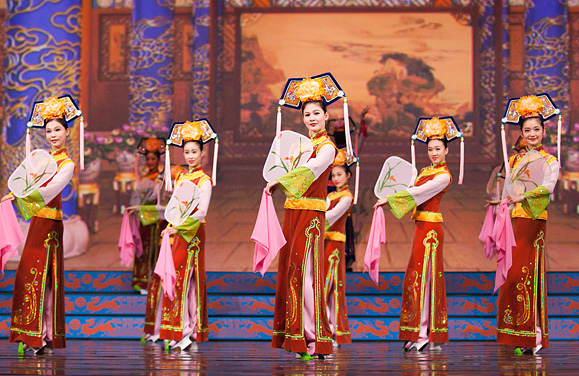 CHUTZPAH: Exchange Student
LEESHAI LEMISH'S PENCHANT FOR ASIAN STUDIES LANDED THE LONDON SCHOOL OF ECONOMICS GRAD IN THE SPOTLIGHT WITH SHEN YUN PERFORMING ARTS.
Like us, the Chinese have a deep and varied culture that dates back 5,000 years. In 2006, Shen Yun Performing Arts was created by expatriate Chinese for the purpose of reviving and celebrating traditional Chinese art forms—and sharing them with the world. To keep them alive, the group has even established a high school in upstate New York where many cast members, who are ethnic Chinese, can study the ancient Chinese arts. Since its inception, Shen Yun, which is Chinese for "the beauty of divine beings dancing," has been performing continuously to audiences across the country and internationally to great acclaim.
The shows are a source of pride for local Chinese communities. Says Cindy Wang, "I have found myself connected with my cultural roots during my involvement bringing Shen Yun to Philadelphia each year. I am very proud of the rich culture of China that one can see through the presentation of Shen Yun."
Shen Yun has an all-Chinese cast with one notable exception—Leeshai Lemish, a US-Israeli who grew up on the Main Line in Philadelphia where he attended Lower Merion High School. Lemish, who also speaks Hebrew, fell in love with Chinese when he began studying it to fulfill a mandatory language requirement at Pomona College in California—he has a degree in Asian Studies from Pomona and a master's degree in International Relations from the London School of Economics.
Lemish, now 33, has been with Shen Yun from the beginning as an emcee, appearing throughout North America, Europe, Asia and Australia. He and his female partner introduce each performance in Mandarin Chinese and English and guide audiences through the show, providing all the background needed to enjoy it.
While both Jewish and Chinese cultures are 5,000 years old, ancient Chinese dances aren't anything like our Hava Nagila. They are performed with swords, spears, parasols, fans, silk ribbons, Taoist whisks and various types of drums. The dancers wear elaborate, handmade ethnic costumes. Lemish stresses that "Shen Yun is not like a performance of the Lion King. "Each year, the performance changes," he points out.
While many would describe the dances as being similar to acrobatic or gymnastic routines, Lemish corrects this notion. "Flipping, tumbling, jumping, spinning and other aerial techniques have been part of Chinese dance for over 5,000 years. Gymnastics and acrobatics borrowed from them," he explains.
The Shen Yun shows are accompanied by a western-style symphony and also features ancient Chinese instruments such as the erhu (Chinese violin), bamboo flute, and the pipa (Chinese lute), which Lemish describes as having a "more expressive and wide ranging tone."
Chinese dances re-create Chinese legends. This year, one of the dances tells the story of Mulan, which was made famous by the hit Disney movie of the same name. "Mulan was a young lady caught between two values—loyalty to her country and taking care of the old. When her father was conscripted into the army, Mulan, disguised as a man, went in his place and became a leading general. Her female identity was only discovered when someone from the government came to give her an award," says Lemish, who believes that the Disney movie did not do justice to the ancient legend.
Another dance will interpret the Chinese classic Journey to the West that recounts an elderly monk's pilgrimage from China to India accompanied by a pig (a heavenly general sent down to earth) and a monkey king. "The monkey king, which is a type of monkey endowed with magical powers, uses his powers, wit and wisdom to get himself and the monk out of sticky situations," explains Lemish.
Some of the magical powers of the monkey king must have rubbed off on Lemish for him to be the only non-Chinese in the show or maybe it was Jewish chutzpah!
About Shen Yun. Upcoming US dates include the Palace in Waterbury CT, December 26-30; the San Francisco War Memorial Opera House, January 2-5; the Merriam in Philadelphia, January 6-8 and the David H. Koch Theater at Lincoln Center in New York, January 11-15. For a complete list of tour dates, go to www.shenyunperformingarts.org (ticket finder)
December 22, 2011